Development of Fresh Talk – A Digital Lifestyle Hub for all Canadians
Fresh Talk (www.freshtalk.ca), is a website that seeks to enhance the lives of Canadians. Many Canadians depend on external online sources and networks from the United States for their content. However, Fresh Talk hopes to fill this void by ultimately becoming the go-to platform for Canadians to consume the best in lifestyle content. This site will host various lifestyle topics and discussions Canadians can relate to, such as food, recipes, fashion, beauty, health, wellness, home, and garden.
Unlike any other Fresh Talk has a unique advantage. Jennifer Valentyne, a prominent Canadian Influencer will host the site. She had experience reaching Canadians on television and wanted to reach them online. She looked to Centennial College for help to get started and I was chosen by my professor to get Ms.Valentyne started.
In order to complete this project, I put together a team, which consisted of a Content Strategist and a Digital Strategist. I managed this project from initiation to completion and oversaw all aspects of research, design, and development. The goal of this project was to provide a superb user experience. In order to meet this goal, we followed a rigorous process. Starting with Personas, to identify our users and their motivation. Then on to the comparative analysis, to assess the strengths and weaknesses of competitor sites in relation to user's needs. Once their needs were identified, the next step was to assess user flows and thought processes.
Once we understood our users, their user flows and their needs we moved on to creating paper prototypes. Using these prototypes, we conducted usability tests. Utilizing the results of the tests, we were able to make adjustments to our design and create wireframes.
The wireframes help us to visually communicate concepts to the team and gain user feedback. We then tested the wireframes to gain valuable feedback on our design and its user experience.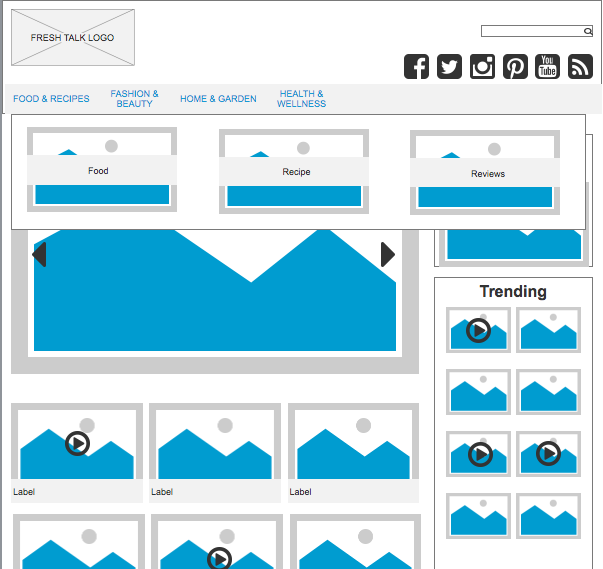 With the feedback we made a few more changes and built a live prototype on WordPress, You can see it here. In addition to delivering the prototype to the client. We also created  Writing Guidelines and Content Structures, as well as, a Style Guide.